Looking for a hunting dog that excels in the water? These are the must know hunting dogs with webbed feet: the short list for hunting dogs that are great in the water.
So, What Hunting Dogs Have Webbed Feet?
Check out these 7 hunting dog breeds with webbed feet.
Check out more about these hunting breeds, their characteristics, their hunting skills, what each breed is used to hunt, and how having webbed feet can affect all these aspects. Keep Reading>>>

American Water Spaniel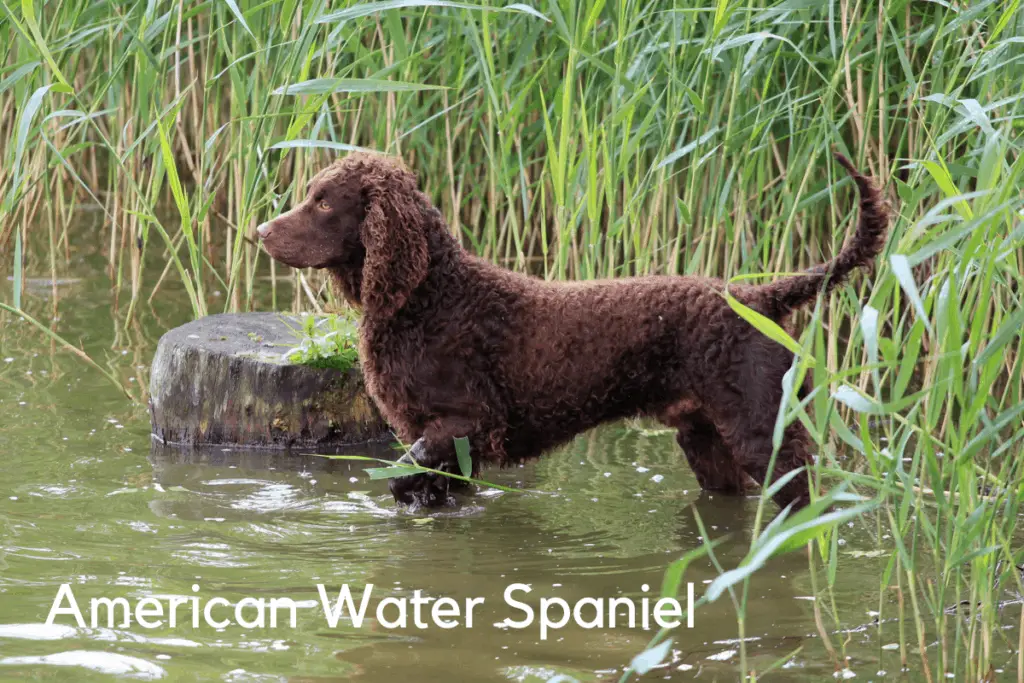 The American Water Spaniels are great sport dogs, hunting partners, as well as cheerful pets. As their name indicates, they're a breed of hunting dogs that are made to excel in the water.
Breed Profile
Height: 15-18 inches.
Weight: males are 30-45 pounds, females are 25-40 pounds.
Coat: curly wavy coat and heavily haired ears. Low Shed / Hypoallergenic
Color: brown
Temperament
Water Spaniel dogs are cheerful and eager. They're the affectionate type that likes to spend time with family. However, they may be aloof with strangers and other dogs.
As hunting dogs, they need to exercise and be trained on a daily basis. In addition, giving them physical and mental training enhances their skills. They can be stubborn dogs and so need firm and consistent training. A bored untrained dog is likely to bark a lot and mess around the house.
Hunting
The breed's thick coat and padded webbed toes give them a hunting advantage. The coat is a waterproof barrier that protects the dog from cold water. On the other hand, the webbed toes improve the dog's mobility in water.
Both features help the American Water Spaniel easily retrieve waterfowl such as ducks and geese. Moreover, some people train them to retrieve from boats and canoes. Still, like any other hunting dog, they're capable of catching upland game. When hunting upland game (such as pheasants, quail, or grouse) American Water Spaniels are considered a flushing breed, meaning they will cover ground searching for birds and when they find them will chase the birds into the air (flush them) for the hunters to shoot.
Hunting Trails and Competitions
There are numbers of trails and competitions that your dog can take part in:
AKC spaniel hunt tests
AKC retriever tests
The American Water Spaniel Club's hunt tests
The North American Hunting Retriever Association (NAHRA) hunt tests
Breed Associations
Some of the associations responsible for preserving and protecting the breed are:
The American Kennel Club (AKC) recognized the breed in 1940.
The American Water Spaniel Club (AWSC)
The Great Lakes American Spaniel Club(GLAWSC)
Chesapeake Bay Retriever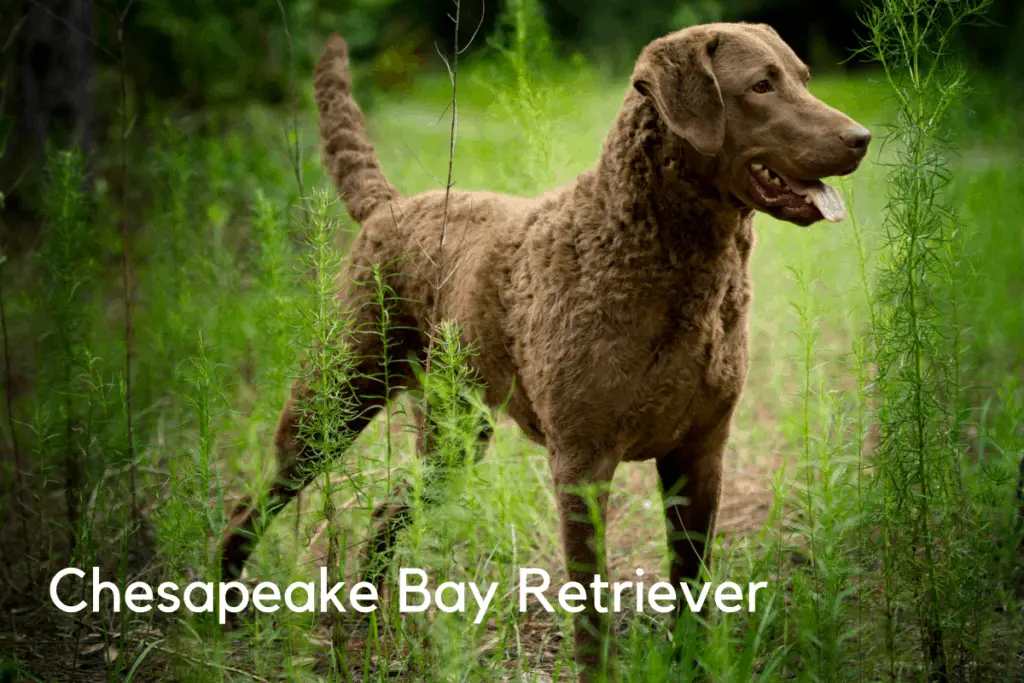 The Chesapeake Bay Retriever is another US-originated breed. It was bred as a water dog in the harsh cold weather of the Chesapeake Bay in Maryland.
Breed Profile
Height: males are 23-26 inches, females are 21-24 inches high.
Weight: 65-80 pounds in males and 55-70 pounds in females
Coat: wavy coats.
Color: solid colors such as brown, deadgrass, and sedge.

Temperament
Chesapeake dogs are affectionate and love to spend time with their owners. They need to be trained outdoors and do some exercising such as swimming, for instance.
They're tireless dogs, and can sometimes be independent if not trained with firmness. A mixture of a firm and rewarding training is the best way to get them to obey.

Hunting
This American breed has a protective waterproof dense coat and a woolly undercoat. They both protect it from cold water and weather. Being tireless dogs with webbed feet, they don't have a problem retrieving large numbers of waterfowl such as ducks and geese as well as upland game.

Hunting Trails and Competitions
Chessies are very suitable for many types of trials and competitions:
Agility competitions
AKC retriever field trial
Obedience competitions
Tracking competitions
Breed Associations
AKC
American Chesapeake Club
German Wirehaired Pointer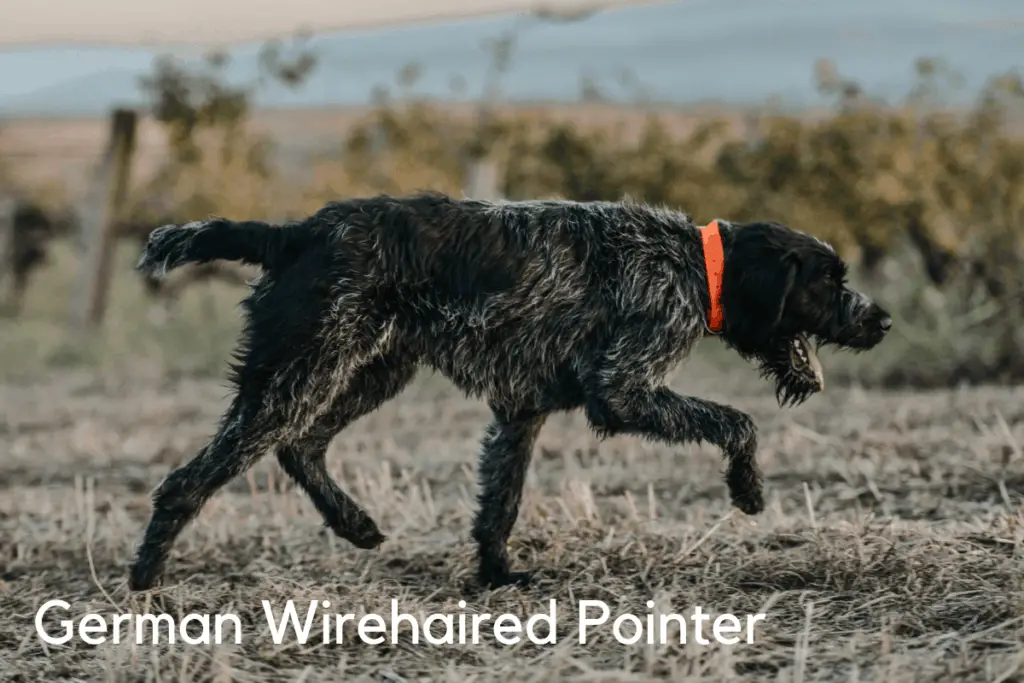 The German Wirehaired Pointer originated in Germany a long time ago. They were bred to be versatile for hunting in all weathers and all terrains, making them pointer, retriever, and sporting dogs.
Breed Profile
Height: males are 24-26 inches, females are 22-24 inches.
Weight: 50-70 pounds.
Coat: dense, coarse coat with facial trimmings (beard)
Color: standard colors are liver and liver with white.
Temperament
German Wirehaired are smart, resilient, and energetic dogs. They're at their best when occupied with exercises and mentally-engaging training. They can be great sports companions if you take them out swimming or running.
Hunting
Pointing and retrieving are the breed's two special hunting skills. They have wiry waterproof coats to protect them from cold. Plus, two webbed feet to swim smoothly and retrieve waterfowl. On land, their beards and whiskers help improve their senses and protect their faces when hunting upland game. The German Wirehaired Pointer is a pointing breed meaning when hunting upload game it will find and stop a distance away from the bird allowing the hunter to walk in and flush. German Wirehaired Pointers are also used for hunting furred animals and for tracking wounded animals.
Hunting Trails and Competitions
There are some hunting trials and competitions you can take part in with your German Wirehaired, such as:
NAVHDA tests
AKC pointing breed field trials
AKC gun dog championships
Breed Associations
The German Wirehaired Pointer Club Of America (GWPCA) is a national official club recognized by the AKC
AKC
NAVHDA
Labrador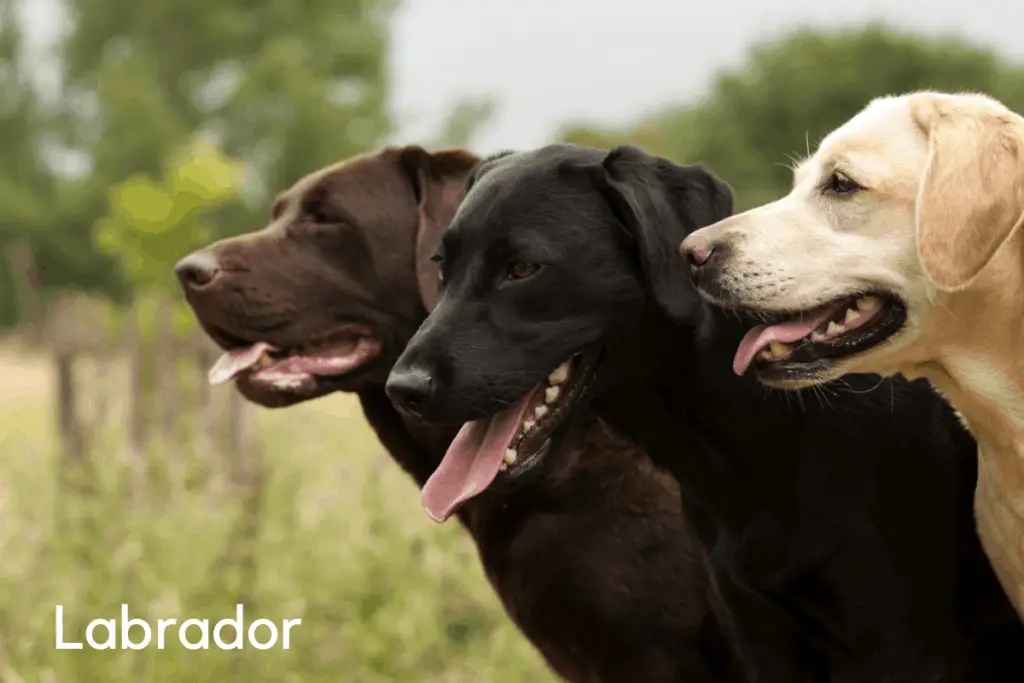 The Labrador is a sporting retriever water dog and one of the US' most famous dogs from its loyal and friendly character.
Breed Profile
Height: 22-25 inches.
Weight: males are 65-80 pounds, females are 55-70 pounds
Coat: hard coats.
Color: yellow, black, or chocolate.
Temperament
The breed's lovely character comes from their friendly nature with family and strangers and their
eagerness to please their owners. They're sociable and enthusiastic dogs who are in need of a daily physical let out and mental exercises. They also make great sports companions in swimming and running.
Hunting
Labradors are sturdy hunters with high stamina. They love swimming and retrieving waterfowl.
Their dense coats are both weatherproof and waterproof to make them endure harsh weather conditions.
Hunting Trails and Competitions
Your Lab can join many competitions and trials including:
HRC competitions
AKC retrieve/hunt tests
Tracking competitions
Breed Associations
Nova Scotia Duck Tolling Retriever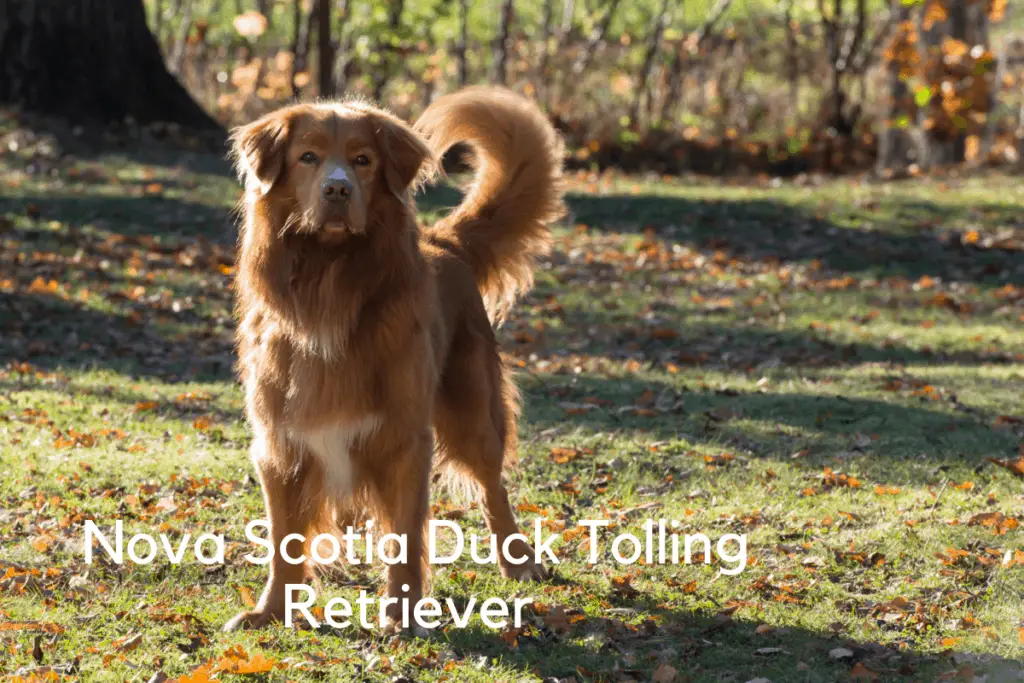 Nova Scotia Duck Tolling is the smallest AKC retriever and the one with the longest name.
They were bred in the province of Nova Scotia and hence came the name.
Breed Profile
Height: males are 18-21 inches and females are 17-20 inches.
Weight: 35-50 pounds.
Coat: doubled-coat
Color: ranges between red and red gold. Often with distinct white hair patch on chest.
Temperament
The Nova Scotia dogs are willing to please, affectionate, and love family time. They're also energetic and need active owners. Like all other hunting dogs, they have to train daily physically and mentally.
Although they're good sports companions and trainable dogs, they can be stubborn sometimes. Therefore, they need both firm and rewarding kinds of training.
Hunting
The dogs' energetic and alert nature drives them to hunt anywhere on land and in water.
They're famous for retrieving and luring waterfowl, which makes the hunting all easier. Their special body features such as their doubled-coat, dense undercoat, and webbed feet protect the dog and make swimming easier.
Hunting Trails and Competitions
Tollers have a strong prey drive, therefore they excel at dog sports.
Agility competitions
Obedience competitions
AKC hunt and/or retrieve trials
Breed Associations
The Nova Scotia Duck Tolling Retriever Club (NSDTRC) is one of the breed's certified organizations.
AKC
Weimaraner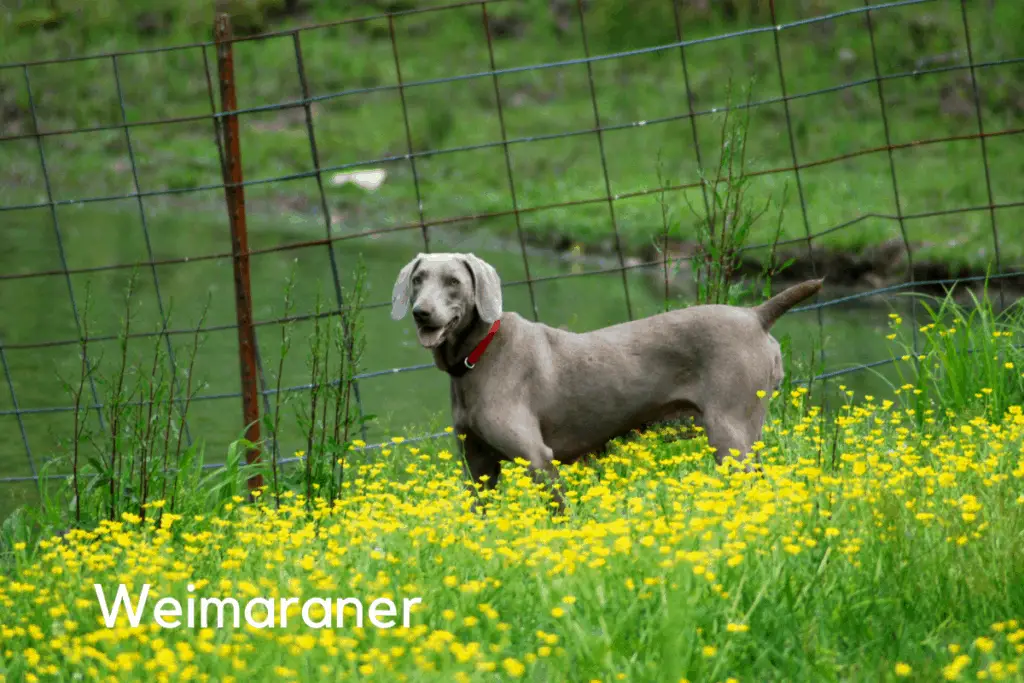 Also known as the German Gray Ghost and Weimar pointer, this beautiful breed is a versatile pointer and hunter.
Breed Profile
Height: males are 25-27 inches, females are 23-25 inches.
Weight: Males are 70-90 pounds, females are 55-75 pounds.
Coat: short smooth coat.
Color: mouse-gray to silver-gray or blue with white spots in the chest area.
Temperament
Weimar dogs are active and fearless. They need energetic owners who will give them physical and mental stimuli and take them for outdoor training daily to stay active. Still, they're smart and easily trained dogs. They're also friendly and love spending time with family.
Hunting
This breed has great stamina, as they were originally meant to be used in hunting huge animals like bears and deer. Nowadays, however, they hunt upland game birds and waterfowl.
Weimaraners are also good swimmers when trained well from an early age. They can swim smoothly with their webbed toes and retrieve waterfowl.
Hunting Trails and Competitions
Here are some of the hunting trails and competitions for your Weimaraner:
AKC pointing breed hunting tests
AKC retrieving breed hunting tests
NAVHDA's training chapters and competitions for versatile dogs
WCA's national championship field trials
Breed Associations
The Weimaraner Club of American (WCA) is one of the breed's national associations.
AKC
NAVHDA
Wirehaired Pointing Griffon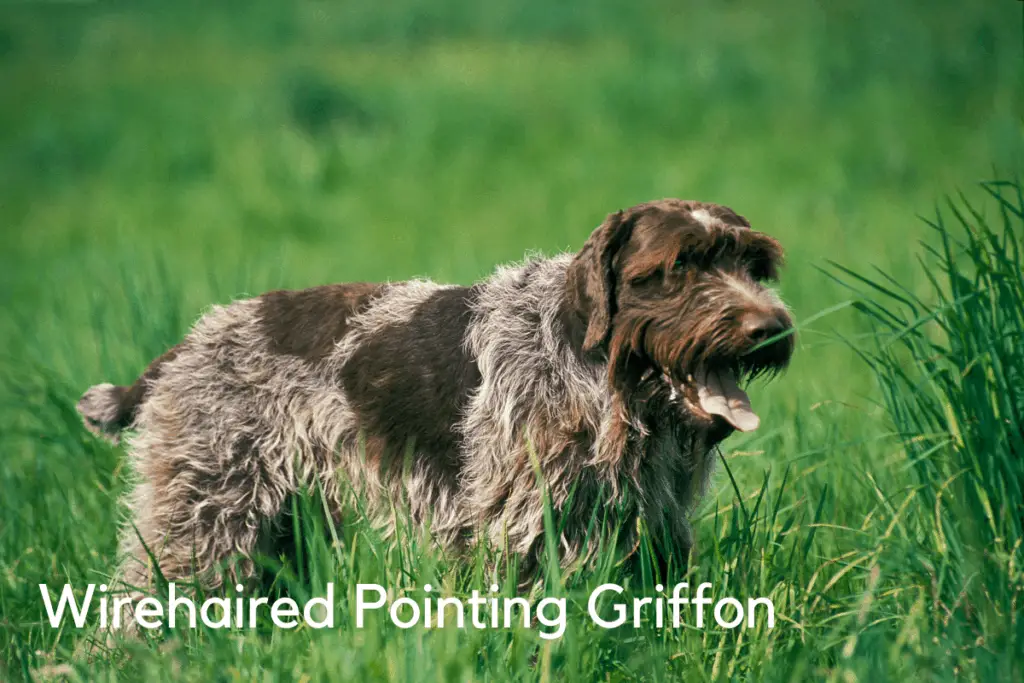 The Wirehaired Pointing Griffon is a Dutch breed that most of its development took place in France, and so sometimes mistaken as a French breed.
Breed Profile
Height: males are 22-44 inches, females are 20-22 inches.
Weight: males are 50-70 pounds, females are 35-50 pounds.
Coat: wired harsh coats. Low Shed / Hypoallergenic
Color: brown heads with brown/white bodies. Long wire guards hairs on body are grey/white while undercoat is brown. Can have large spots.
Temperament
These Dutch dogs are friendly and obedient. They love to please their owners so much. Yet, they aren't as friendly with strangers. They're active dogs and need good daily physical and mental exercises.
Hunting
The Wirehaired Griffs are pointing and retrieving dogs. They can run for long distances and hunt upland game. Their dense wiry coat and webbed toes allow them to hunt just as good for waterfowl. They are a pointing breed meaning they stop in the presence of game to allow the hunter to flush and shoot.
Hunting Trails and Competitions
You can join many trails and competitions with your Wirehaired Pointing Griffon:
NAVHDA hunting tests and competitions
AKC retrieve tests
VHDF's field tests
Agility Competitions
Obedience competitions
Breed Associations
NAVHDA
AKC
The American Wirehaired Pointing Griffon Association.
Do Dogs with Webbed Feet Make Better Retrievers?
Yes, dogs with webbed feet make better retrievers. That's because webbed feet give their owners advantages over many other hunting dogs:
Retrieve various types of waterfowl like ducks and geese
Don't get tired easily when swimming
Swim in harsh conditions with protective coats or vests
Helpful company on boats and canoes
Do Dogs with Webbed Feet Have More Foot Problems While Upland Hunting?
Dogs with webbed feet can run and walk as normal as any other dog. Moreover, the webbed feet can become useful in muddy and damp areas just as they're useful in water. They're more likely to slide rather than get stuck in the mud, which makes them faster and more versatile.
Why Do Some Breeds Have Webbed Feet?
Hunting dogs with webbed feet are bred that way to make them versatile and to enhance their hunting and retrieving skills. Breeds with webbed feet are mostly bred in places where there are lots of water bodies. The same goes for the dense and protective coats that make them able to endure hunting in cold weather and icy water.
In Conclusion
Having a webbed feet hunting dog can make you enjoy hunting and playing with your dog in the water more than any other dog. These webbed feet and their enthusiastic hunter nature make them tireless and interesting companions in water and on land.