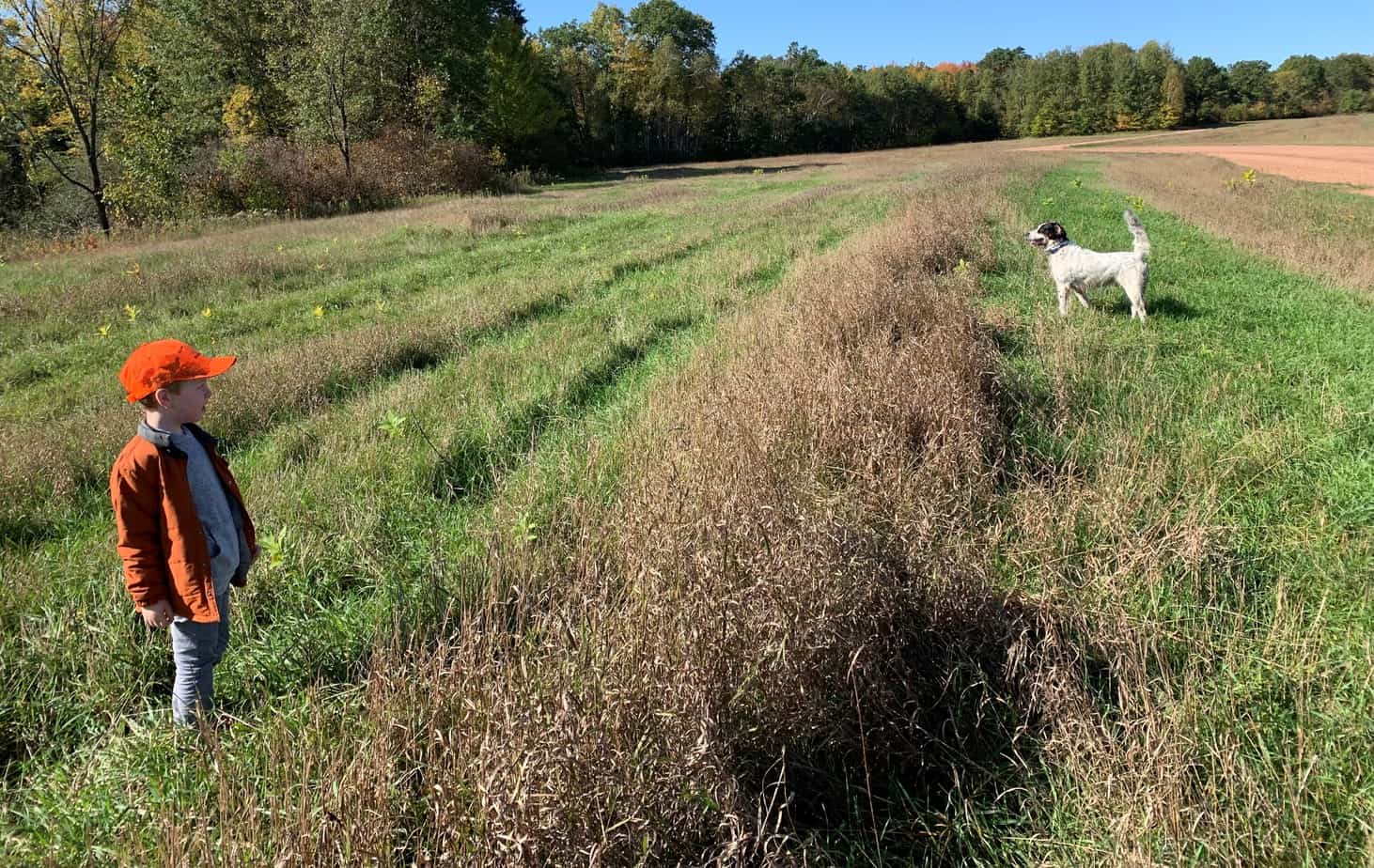 If you're looking for resources for positive gundog training, you're in the right place! Traditional hunting dog training can seem harsh on the dog. Old school trainers justify a heavier hand if it provides limits the loss of game. An example of this is a conditioned retrieve to avoid a dog refusing to make a retrieve that results in the inability to retrieve game that was shot, a most grevious offense. In my experience, heavy-handed training methods can come up short especially for more sensitive dogs. Using too much force or using it incorrectly on a sensitive dog can turn a solid dog into a basket case. This is pushed me and others to explore where positive gun dog training and hunting dog training intersect.
What Exactly Does a Positive Gun Dog Mean?
When you refer to a dog as a positive gun dog, it means that this gun dog is trained with positive reinforcement training methods.
Positive Gun Dog training is centered around using a reward system to teach and reinforce a desired behavior.
What is Positive Reinforcement Gun Dog Training?
Positive reinforcement gun dog, also known as the "modern training method", is the newer trend in training hunting dogs.
The word "positive" here means that you add something new to your gun dog's environment, this is often in the form of a reward such as a treat or activity that the dog is enamored with.
This is in contrast to a negative reinforcement method, where a correction is given for a mistake or where a pressure is introduced and then taken away when the dog completes the proper activity.
The word "reinforcement" means that you're going to do something that pushes the dog to repeat the same behavior again in the future.
When you give your hunting dog a reward when they behave in the proper way, it makes them eager to do the action again in exchange for rewards.
The act of positive reinforcement relies on making the correct action by the dogs worth their while. Positive reinforcement training depends on applying techniques based on behavioral science.
In other words, positive reinforcement training depends on gentle methods that build a stronger and healthier relationship with your dog. This drives your dog to want to cooperate with you without the use of fear and compulsion.
Is There a Negative Gun Dog Training?
With the rise of the positive reinforcement training methods, many gun dog trainers started calling the traditional methods "negative reinforcement training".
In traditional methods, trainers use different sorts of punishing or applying pressure or slight discomfort to get the hunting dog to act the way you want.
The advocates for negative gundog training claim that some dogs will ignore signals for difficult tasks like wildly chasing birds even if there's a treat waiting for them after keeping their discipline.
Of course, there are some actions that a dog may find more fun than any treat, leading to a lack of discipline.
What Makes Positive Training Different from Traditional Methods?
As you can see, there's a huge potential for the difference between the two methods. In fact, each method has its own interpretation of many terms.
Of course, each dog trainer has his own technique. As a result, there's no exact method to follow as the "ultimate positive or negative reinforcement method". However, there are main outlines that all trainers in each camp follow.
Let's have a look at the main differences between the two methods based on the general overview of their methods.
Dealing with Behavioral Problems
The first difference between positive and traditional methods is how they deal with behavioral problems.
Positive reinforcement training focuses mainly on preventing behavioral problems from happening. However, if these problems start to rise, they try to replace them with a positive alternative via encouraging the dog with treats.
The modern approach trainers believe that whoever controls the access to desired results is the leader.
On the other hand, if a bird dog shows signs of disobedience, a traditional dog trainer will tend to suppress the behavior rather than preventing it from occurring.
In other words, a positive reinforcement approach tends to act upon the problem even before it begins to show. A traditional one will only react to existing behavioral problems to build dominance over the hunting dog.
Earning The Dog's Respect
This takes us to the next point, which is the approach of dominating the dog. On the positive reinforcement side, intimidation is little to never used. Instead, the trainers try to earn the dog's respect rather than dominating him.
A traditional dog trainer will always use punishments and intimidation to build discipline. The negative trainer's main idea is to gain leadership by putting the dog in his place and show complete dominance over him.
View of Punishment
The positive trainer's view of punishment varies widely, as every trainer has his own interpretation of what's acceptable and what's not.
However, positive trainers all agree to avoid using cruelty while training. This includes avoiding collars and physical correction.
Advantage of Positive Gun Dog Training vs. Traditional Gun Dog Training
Based on all the previous, it's obvious that positive reinforcement training has a lot of pros for your dog.
Here are some of the advantages of the modern method vs. traditional gun dog training.
Great Relationship Between You and Your Dog. One of the best things about positive gun dog training is that it maintains a healthy relationship between you and your dog.
Improves Your Dog's Willingness to Learn. Not only does positive reward training build trust between you and your dog, but it also boosts his drive to learn new skills.
It can be easy to ruin a good hunting dog with too much force.
By improving your dog's willingness to learn, you can expect your dog to perform better under distractions or harsh conditions. Think of it as a long-term investment.
No Physical or Psychological Harm on Your Dog
It goes without saying that you won't be inflicting any kind of damage to your dog. This makes the positive reinforcement approach the jack of all trades, as it's ideal for both amateurs and professionals.
Best Youtube Channels for Positive Gun Dog Training
Finding resources online for positive reinforcement training might be a difficult task.
To make things easier for you, I've compiled a list of the best youtube channels that produce videos for positive reinforcement training for gun dogs. Let's have a quick look at each one of them and see what they have to offer.
Fetch Masters – Thomas Aaron
Fetch Masters by Thomas Aaron is one of the best youtube channels dedicated to positive gun dog training methods. The channel currently has more than 50 videos that discuss positive reinforcement gun dog training techniques and styles.
In his videos, he demonstrates various aspects of his training technique that he uses in Fetch Masters training.
His training methods are based mainly on a rewarding system. Tom never uses any form of force and compulsion in his training. He is a professional hunting dog trainer. Beside Youtube, Tom is also the owner of a reputable gun dog training center in Denver.

Dr. Dale Hubbard, Ph.D
This one also offers a great source of information about positive reinforcement training. The channel is hosted by Dr. Dale Hubbard, Ph.D., which is a highly experienced trainer in the field of positive reinforcement.
The channel has more than 500 videos about different guides and methods of positive bird dog training.
In addition to training videos, Dr. Dale Hubbard also posts various live updates on both Youtube and Facebook, where he answers a lot of questions. Dr. Dale believes that training your gun dog should always be fun for you and your dog.
The channel also contains short videos that demonstrate updates on his dogs, which also serve as living proof of the success of his methods.

Willow Creek Kennels
Willow Creek Kennels is one of the oldest youtube channels for hunting dogs training. They post instructional training videos that help your gun dog's basic obedience.
The channel currently has over 210 videos teaching various aspects of positive training for gun dogs. These videos include developing "steady to release", "retrieve and hold", and more!

Standing Stone Kennels
Standing Stone Kennels is a channel that has been around since 2012. The channel is based on breeders from Kansas.
Ethan and Kat Pippit, the owners of the channel, have a huge affection toward breeding and training hunting dogs. The channel currently has over 280 videos with a wide variety of information about hunting dogs.
You can also find multiple videos about positive reinforcement training for gundogs. What makes this channel stand out is that they always provide the dogs with love and affection. Also, they start training gundogs at a very early age.
Best Books for Positive Gun Dog
While youtube videos have the advantage of simplicity and hand-on type of information, books are always better organized.
Additionally, a book is usually a more fulfilling and comprehensive guide that walks you through everything you need to know.
Here's a list of the best books that you can find out there regarding positive reinforcement training for gundogs.
Absolutely Positively Gun Dog Training: Positive Training for Your Retriever Gundog
Kicking off the list with one of the best books around for training retriever gundog. The author of this book is Robert Milner, a retired U.S. Air Force officer who ran a retriever gundog kennel since 1972.
What makes Robert Milner special is that he has a vast experience in the field that he built with trail and application. Throughout his training career, he has trained over 2,000 dogs using the traditional reinforcement method and hundreds of dogs with the modern positive method.
This makes him one of the few that knows a whole lot about both techniques. In fact, Milner's advocating the positive technique is strong proof of its superiority in itself.
In this book, Milner combined his huge experience in the field of positive training with the latest findings in behavioral science. The book is extremely easy to understand and apply. However, it's highly effective as well!
The box provides you with everything you need to turn a dog into a successful, obedient, and calm gun dog.
Not only that, but the book also debunks a number of myths that have no evidence of their effectiveness. The best thing about Milner's techniques is that its both fun for the trainer and the dog.
Positive Gun Dogs: Clicker Training for Sporting Breeds (Karen Pryor Clicker Books)
This book is easily one of the best positive training books for those who love simplified terms without getting all technical. The book is written by two experienced dog trainers, Jim Barry and Marry Emmen.
The book explains everything you need to know about positive clicker training to turn your sports dog into a successful gun dog.
The authors have been around sports dogs all their life and have a huge understanding of applied behavioral science. They successfully combined their deep knowledge and experience to apply these techniques to all kinds of gun dogs.
The book includes a clear step by step guide that's suitable for all levels of training. Moreover, it has multiple diagrams that simplify complex information as well as solutions to the most common problems while training.
The book also comes with a training log that helps you observe anticipated results and tell you when to move forward.

Clicker Gundog (Learning about Dogs)
Clicker Gundog is a part of the "Learning about Dogs" series by Helen Phillips. The book is mainly about the English style of hunting. However, once you read into the book, you'll realize that this book is an astonishing resource to learn about gun dog behaviors.
The book breaks down the sought for behaviors and turns it into smaller divisions that the book tackles one by one.
For example, if you're facing a problem while training your dog to retrieve and deliver, the book helps you break it into simpler tasks that you can go on step by step.
This book is ideal for a committed dog owner who wants to take his beginner positive gun dog training to the next level. All that presented in a simple yet fun terminology to avoid over-complication

Force-Free Gun Dog Training: The Fundamentals of Success
As the title suggests, this book contains a comprehensive guide with all the basics you need to train your gun dog without using force. The book is written by Jo Laurens. It's one of the biggest books in the list with over 400 pages packed with illustrated tips and beginner guides.
The book tackles a wide variety of gun dog exercises in detail, including clicker retrieval, stays, sit to whistles, swimming, and more. The information is organized in 30 chapters, so you can tailor your training the way you want.
Sporting Dog and Retriever Training: Raising a Gentleman's Gundog for Home and Field
Another co-written book graces the list. The book is written by Mike Stewart and John Newman. It's great for those who are looking for a full guide to turn a sporting dog into a successful gun dog at home and in the field.
The book is fully illustrated with photographs and diagrams that are easy to read. This allows you to gather all the information you need as if getting live coaching with the authors.
The book contains multiple chapters that show you the ideal ways to handle essential behaviors as well as the core skills of a hunting dog. The book also contains a guide on breed selection and tips to establish effective canine leadership.
Best Dog Trainers That Focus on Positive Gun Dog Training
Some dog owners might enjoy hunting with their dogs. However, they can't afford the time to train their pups into a gun dog, especially that positive training methods require patience.
In that case, you need to send your dog to a trustworthy dog trainer that focuses mainly on positive reinforcement gun dog training. Here are some of the best options you can go for.
Duck Hill Kennels
Duck Hill Kennels is founded by the experienced author Robert Miller. As you already know, he has trained thousands of dogs throughout his life. He established Duck Hill Kennel in 2007 to implement his deep knowledge of positive gundog reinforcement training.
Valhalla Kennels & Gun Dogs
Valhalla Kennels are specialized Gun Dogs trainers that have various training programs for a great price.
Willow Creek Kennels
Remember Willow Creek Kennels from Youtube? They're also one of the best gundog trainers around!
Positive Training Replacement for Force Fetch or Conditioned Retrieve. Will This Result in More Lost Games? Not necessarily!
One of the best things about positive gundog training is that it makes your dog more engaged and exciting about what he's doing.
In fact, in traditional methods, regular punishments make a dog less keen on learning new behavior. In other words, your dog might chase a game and neglect bringing it back.
On the other hand, in positive training, praising your dog for retrieving the game will encourage him to do that more often.
The Future of Positive Gun Dog Training
Currently, positive gundog training is still an underdog compared to traditional methods. There are many dog owners who still doubt these methods. When I trained my first hunting dog over 15 years ago positive training methods you see today largely werent on the menu.
However, more and more gun dogs trained through positive methods are winning championships. As a result, the force-free method is slowly rising the ranks.
Wrap Up
There you have it, a complete guide with a wide selection of resources for positive gundog training.
As you can see, positive reinforcement training has a lot of potential for you and your dog. Don't forget to share your thoughts and ideas in the comments below